Es gibt keine Artikel mehr in Ihrem Warenkorb
Bestsellers in dieser Kategorie: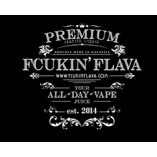 FCUKIN' FLAVA High Premium Malaysia
our aim is simple, we are committed in producing e-liquids with fresh fruity flavours that will definitely be your All-Day-Vape juice. We're courageous enough to claim ours as Premium Crafted Liquidcoz our ingredients came from the US and delicately made by hand in a small quantity at times to make sure the taste and quality are well preserved.
Proudly Made in Malaysia. We're definitely trying our best to improve our flavours from time to time, reviews and critics are most welcome. Thank you very much and Happy Vaping!
Folgen Sie uns auf Facebook